Luminisce's Pico Suite is the answer to Filipinos' pigmentation problems
Laser technology has been all the rage for a while. Thanks to lasers, we're able to achieve a host of results that we used to only be able to achieve manually, either through surgical procedures with a lot of downtime, or manual topical processes like acid exfoliation that cause a lot of stress to the skin.
Pico Technology: The New Wave of Lasers
The first wave of lasers use nanotechnology, which fire laser beam energy at skin imperfections in nanoseconds. Despite nanotechnology lasers being highly effective, patients have to go through periods of downtime and problems like post-inflammatory hyperpigmentation, burns and blisters. These lasers also tend to be very picky with pigments—making some lasers less effective for darker skin tones and vice versa.
Very recently, the company who developed laser technology, Cynosure, developed a laser that fired laser beam energy in picoseconds, which is one trillionth of a second. Compared to nanoseconds, which is one billionth of a second.
Why is this significant?
Because these laser beams are shorter in pulse duration, its photo-thermal effect on the skin is lower (read: less damaging to the surrounding skin tissue). The delivery is so quick, it spares the skin from high-thermal damage, effectively reducing both downtime and the risk of laser-related complications.
Aside from being safer, the particles a picosecond laser vs a nanosecond laser break pigments into, is much smaller. Pico creates much smaller microparticles, and these are easier for the body to break down. This also helps speed up the visibility of results.
Now that we've established how much better Pico Lasers are than its predecessors, what are the Pico Laser treatments available at Luminisce? And why is it important to have multiple?
Here at Luminisce, we value taking the time to talk to each patient about their concerns and goals. We treat every patient as a separate case, and create a custom treatment plan. In this custom plan, we determine which pico laser would be best to use—just like each nanolaser has its specialty, picolasers do as well. It is important for us to find the balance between achieving the best results, and causing minimum stress to the skin if any at all.
The Luminisce Pico Suite
Being the country's house of Pico, the Luminisce Pico Suite contains 3 of the most advanced, world-renowned, gold-standard devices in-clinic.
PicoMajesty
Of all the Pico Lasers in the market, PicoMajesty has the shortest pulse duration in the aesthetics industry of 250ps at 1064nm with a peak power of 2GW. The higher the peak power, the more laser energy, the easier it is for the laser to shatter pigments. A higher peak power is especially beneficial for stubborn pigments such as tattoos, and also when faster results is what's needed.
Created to specifically address tattoos, it also has 4 different wavelengths that can target different kinds of pigments: different colors in tattoos require different wavelengths.
While it is tattoo specific, PicoMajesty is also able to treat other pigment-based skin conditions like acne and scars.
PicoPlus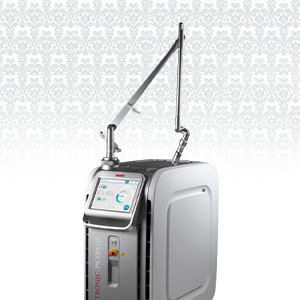 PicoPlus is one of the most versatile Pico lasers in the market. This is the 3rd generation Nd:YAG Picosecond laser. It has both nano and picosecond pulse duration at 450ps, 2ns with the peak power of 1.8GW, but what truly makes it special is how much you can customize the level of treatment.
It is important to note that not every case needs the strongest, most aggressive treatment. For gentler treatments, PicoPlus is a great option.
PicoPlus also has 4 multiple wavelengths that target different types of pigmentation and scarring, and an adjustable pulse control. It has a toggle function for adjusting fluence energy settings—it can be adjusted at any stage of the treatment. The dermatologist controlling PicoPlus can adjust as needed, such as start with a gentler setting for a more conservative approach, or increase intensity as needed. This is just another reason to remember that great results are also highly dependent on the skill of the dermatologist handling it.
PicoSure Pro
PicoSure Pro is the Latest upgraded machine to the company's PicoSure
System and the second generation picolaser created by Cynosure, the company that developed picosecond laser technology itself. It has a wavelength of 755nm Alexandrite, 750ps – 650ps pulse duration, the wavelength that's considered the "sweet spot" for most pigments. While it is not the most powerful laser, there are clear advantages to PicoSure Pro. It's very versatile with different skin types. It is the only picosecond device FDA-cleared to treat melasma pigment, Nevus of Ota, and Hori's Nevus.
It also has Platinum Focus™ lens that's specially created for skin revitalization. Other than just pigments, PicoSure Pro also reduces wrinkles, fine lines, acne scars and pore size. This unique fractionated lens redistributes the picosecond energy into low and high intensities to create elegant injury in the superficial skin layer. This is called intra-epidermal Laser Induced Optical breakdowns or LIOB. LIOBs create pressure waves that expand into the dermis, activating the body's natural healing response to stimulate collagen and elastin production without the thermal side effects like redness, and damages on the surrounding tissue or downtime of other lasers.
"The results of this laser? Improved overall skin tone and texture, and a brighter and more radiant complexion."
Doc Kaycee
Luminisce Holistic Skin Innovations Branches:
> BGC: 2/F Mercury Drug Bldg., 32nd Street, 4th Ave., Fort Bonifacio Global City
> The Podium: 4/F The Podium Mall, 18 ADB Avenue, Ortigas Center, Mandaluyong City
> Molito Alabang: Unit 5 Bldg. 8 Molito Lifestyle Center, Madrigal Avenue cor. Alabang Zapote Road, Alabang, Muntinlupa City
Follow us on social media:
Instagram: Luminisce_official
Facebook: /Luminisce
YouTube: Luminisce Doc Kaycee